Thomas Churchman 1702-1791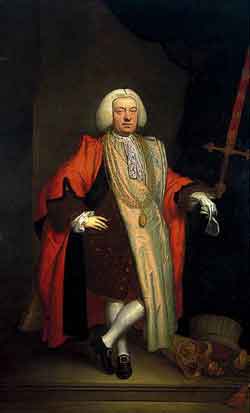 Sir Thomas was the only son of Thomas (1669 - 1742) and Deborah Churchman (1658 - 47). His wife Rebecca (1703 - 62) was the widow of Charles Pack and the daughter of John Harvey. He was elected alderman of St Stephen's ward on 25th March 1759 and became Mayor in 1761. During the latter term of office he presented George III an address of congratulation on his marriage, which resulted in his knighthood.

He lived at 71 Bethel Street, which is described today as a magnificent Grade II listed building and is currently used as the Norwich Register Office. In 1749, after erecting railings he planted three Avenues of elms in Chapel Field gardens which were adjacent to his house.Although as they died they were replaced by native limes and palms, he is still remembered for his early contribution to what is now a public park.

He was very generous and on his death left £1,300 to various charities. Behests included £200 to the County hospital and £500 to the Norwich Charity Schools. His generosity is celebrated on his memorial in St Giles Church , where a monument to his parents can also be found.
Portrait courtesy of Norwich Museum & Art Gallery
The Monument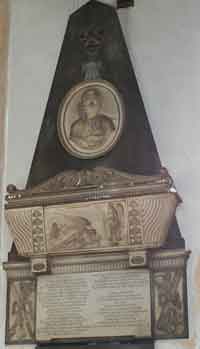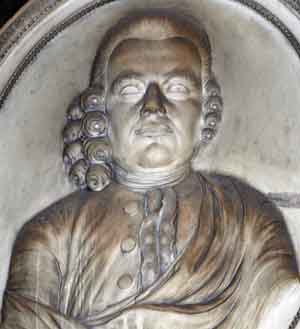 Sir Thomas's monument is signed by Thomas Rawlins and is in the Neoclassical style with Churchman portrayed as a cameo like, "medallion portrait" typical of the period.
In the centre of the the memorial an allegorical scene is portrayed on a sarcophagus which ominously states "Time shall be no longer." This depicts "vanity " blowing bubbles whilst Father Time lies on the ground overseen by an angel holding a book (of judgement?).

At the base of of the monument Sir Thomas' achievements are celebrated
Click here for a readable view of the inscription
What the monument tells us.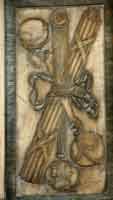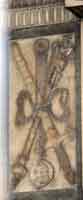 As noted above there are three distinct parts to this monument:
It is topped by a medallion portrait displayed on a obelisk, the latter representing eternal life.
In the centre is a sarcophogus which encompasses a series of devices illustrating the theme "time shall be no longer" - including Father Time lying with his scythe and broken hour glass. Interestingly he is depicted as a vanquished, rather than menacing figure, who has been dominated by an angel which could signify the resurrection.

The base of memorial celebrates Sir Thomas's life and illustrations include carvings of his Mayoral Insignia, which encompass the chain of office and a medallion of the City Coat of Arms.