Thomas Browne (1605 - 1682)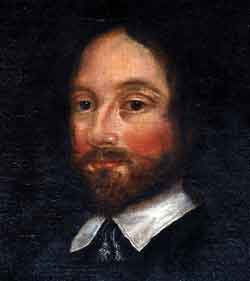 Thomas Browne was born in 1605, in the City of London, where his father was a mercer. He was educated at Winchester College, and at Pembroke College, Oxford, gaining his MA in 1629. He then went to the Continent to study medicine – Montpellier, Padua, and Leyden, taking the degree of MD at the latter. On his return to England, he took the Oxford DM, and settled in Norwich, where he practised medicine, but he is remembered today for his writings.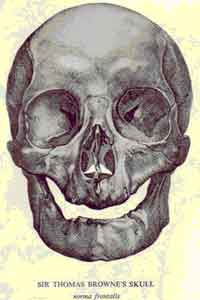 In 1635, he had written his first book, Religio Medici ('The Religion of a Medical Man'). This was pirated, and immediately became very popular; Browne was surprised by the fame it brought him. The Religio was followed by Pseudodoxia Epidemica ('Vulgar Errors') in 1646; Hydriotpahia ('Urn Burial') and The Garden of Cyrus, both in 1658. Some minor works were published after his death.
He was knighted by Charles II when he visited Norwich in 1671: Charles had intended to knight the mayor, but he refused, and Browne was proposed as a substitute. He died at his house in the Haymarket (long since demolished) in 1682, on his 77th birthday, and was buried in St Peter Mancroft.
In 1840, his skull was disinterred, and was kept on display at the Norfolk and Norwich Hospital, but it was reburied in his grave in 1922.
The Monuments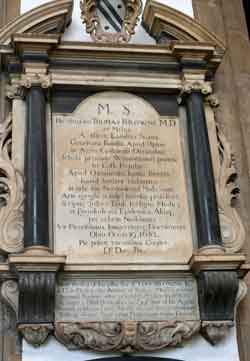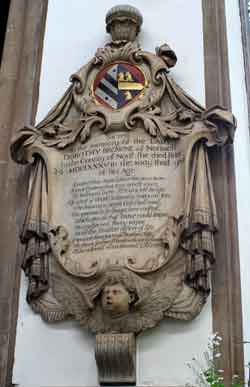 Thomas's monument is relatively plain. A fine broken pediment surrounds the family coat of arms. The classical design and use of black marble are typical of their time.
On the opposite wall of the chancel is the monument to Dorothy (1622 - 1685) , his wife.
Click here for a readable view of the Thomas Browne inscription and here for Dorothy
What the monuments tell us.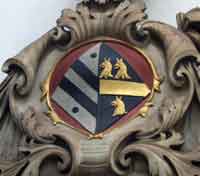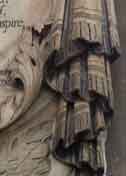 There is more iconography on Dorothy's monument than Thomas's. The enveloping curtains draws a veil over a life well spent. The acanthus leaves represent the heavenly garden, being one of the oldest cemetery motiffs associated with the rocky ground where ancient Greek cemeteries were placed. The winged angel's head symbolises ressurection and the metamorphosis of the soul. What is also traditional for the period is the combination of the coat coats of arms. Thomas's coat of arms is on the left and Dorothy's the right.