Thomas Anguish (1536 - 1617)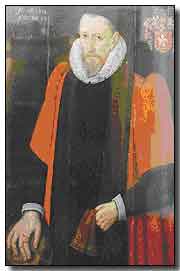 Thomas Anguish was born in 1536. He married Elizabeth, the daughter of Edmund Thurston; they produced nine sons and three daughters, of which only five of the sons survived their parents. He took over Thurston's grocery business, and prospered, becoming a freeman of Norwich in 1573. He lived with his family in Tombland (on the corner of Tombland and Wensum Street, now part of the Maid's Head Hotel), and took an active role in city life, serving as Sheriff, Mayor and Speaker of the Council.He was elected mayor in 1611, and as usual there was a pageant and firework display outside his house. Some of the fireworks exploded accidentally; thirty-three people were crushed to death as they tried to escape. From then on fireworks were banned on feast and guild days.

Anguish died in 1617. He bequeathed a property in Fishergate to the Corporation to be used as a hostel 'for the keeping and bringing up and teaching of very poor children'. The Children's Hospital was opened in 1621. Boys were first to be admitted, with girls following some years later.
The Monument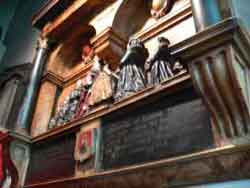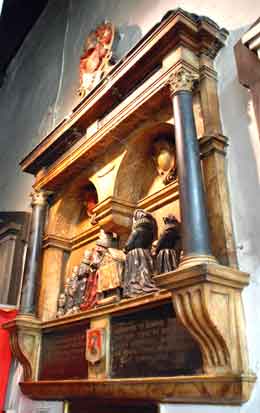 His monument, which is above his 'seat where he usually sat' in St George Tombland, is by Nicholas Stone, who carved the John Donne monument in St Paul's Cathedral..
The memorial cost £20 – and even this was double the amount Anguish had left in his will for this purpose ! Its style is of an earlier period and is the last in the genre which is prevalent in the Norwich churches which commemorate Mayors who are depicted in their civic robes kneeling at a prayer desk opposite their wives. Finch believes that "The executors …. had their own ideas, about the type of monument they thought appropriate for Thomas Anguish and that was determined by the tradition of civic commemoration in Norwich and not by Nicholas Stone "
Behind Thomas are depictedthe couple's seven kneeling sons and two babies whilst behind Elizabeth are their three daughters. The figures are painted with Anguish wearing the red robe of an alderman (similar to the clothes he is wearing in the portrait depicted above)
Unfortunately the monument is obscured by the Victorian organ which makes both viewing and photographing a bit cramped!
What he monument tells us.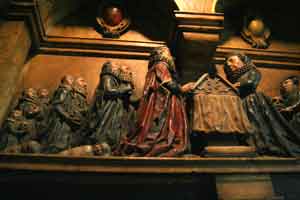 Of particular note are the five children carrying skulls or, in the case of infants, resting their heads on them, indicating they predeceased the parents.