Samuel Bignold 1791 - 1875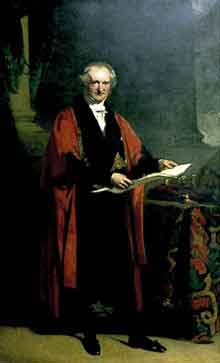 Portrait courtesy of Norwich Museum & Art Gallery
Samuel was son of Thomas Bignold (1761–1835), businessman, and his wife, Sarah (1752–1821), widow of Julius Long and daughter of Samuel Cocksedge of Hopton, Suffolk. Thomas Bignold, a banker and wine merchant, was the founder in 1797 of the Norwich Union Fire Insurance Society and eleven years later of the Norwich Union Life Insurance Society. The two institutions were legally separate. Both were based on the mutual principle and owned by their policy holders, with no shareholders. Thomas was secretary of both, as Samuel also was destined to become. Thomas, though an able man of business, was eccentric and cantankerous. A potential client, who had heard that he would insure any risk at a price, asked whether Bignold would insure him against being bitten by a mad dog. 'No', was the reply, 'because if you were to be bitten by a dog, I should not consider that the dog was mad' (Blake, 21). There was a rebellion by the policy holders in 1818. Thomas was ousted and Samuel elected in his place, and he held the position for nearly sixty years, enduring a series of furious self-exonerating pamphlets from his displaced father.

Samuel was educated partly in Norwich and partly in Bury St Edmunds.. On leaving school he went into the insurance business. On 12 October 1815, after an engagement of nearly three years, he married Elizabeth Jex Atkins (1797 -. 1860), only daughter and heir of William Atkins of Walcott Hall and Ridlington, Norfolk, a substantial landowner. They had six sons and seven daughters.

Bignold's primary interest was the Fire Insurance Society. The trouble with fire brigades in Norwich and the other cities where the society operated was all too often shortage of water and excess of alcohol. Bignold laid down strict rules on drink and good conduct. He also had firm criteria for any applicant to join the society's head office. He had to be a good writer, clean shaven, a tory, and a Christian. Bignold throughout his life was an emphatic adherent to what was in those days the minority party in Norfolk. He took a keen interest in public affairs. He was mayor of Norwich four times (in 1833, 1848, 1853, and 1872). He had much correspondence with Lord Douro, eldest son of the duke of Wellington and tory MP for Norwich. Bignold himself, just after receiving a knighthood, became member for Norwich in a by-election in 1854 but lost his seat at the general election of 1857. He tried but failed to get it back. He was a great admirer of Disraeli but rejected his request to the Life Insurance Society for a loan on rather dubious security. However, he met the great man and was seduced into making a personal loan. As he wrote to Lord Douro, 'really D. was so persuasive' (Blake, 46).

The great expansion of the Norwich Union occurred after Bignold's time. But there would have been nothing to expand if he had not coped with its many vicissitudes. One of these was a major challenge in 1837 by the policy holders, who objected to the septennial valuation and the low level of bonuses. His own remuneration was said to be too high; and why keep the headquarters in Norwich rather than London? Bignold won the day. A notable accession to the union in 1866 was the takeover of the Amicable Society, the oldest mutual life insurance institution in Britain, negotiated by Bignold's nephew, C. J. Bunyon, the union's actuary.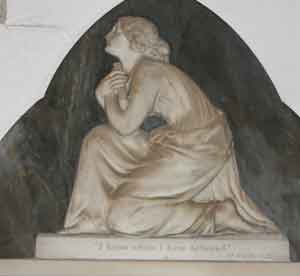 Bignold moved in 1820 from his country house to a mansion in Surrey Street, Norwich (Bignold House), which became not only his private home but the headquarters of the Norwich Union.It still houses the Norwich Union today. By the end of his life he had numerous directorships, but he combined these and his public duties without neglect of the Norwich Union. Described as father of the city, he died in Bignold House on 2 January 1875, a 'Norwich Notable'.

He was buried at St Margaret's, Old Catton, Norwich. However his name was added after his death to his wife's monument in St Stephen's Church which is also dedicated to five of their children : Elizabeth (1816 - 34), George (1835 - 35)
Emma (1837-92), Louisa (1827 - 93), Charlotte (1835 - 1924) and Charles (1831 - 95)

(Extracted from Robert Blake's work in Oxford Dictionary of National Bibliography)
The Monument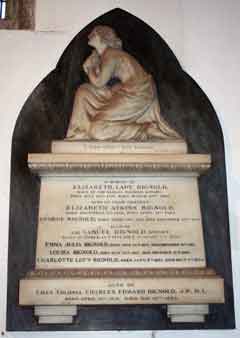 By the time this monument was carved Rococco and Baroque styles had passed out of fashion, and were succeded in funerary work by the neoclassical movement and in particular its revival of ancient Greek idioms and designs.This is an example of the commonest design where memorials typically comprised an upright rectangular outline topped by a shallow pediment upon which sat a figure (or face) in low or high relief. The style was influenced by the Elgin Marbles which had been brought to Britain at the beginning of the century. Naturalism and simplicity was the keynote style - as illustrated on this memorial.
At the base of the figure there is a quote from 2 Timothy 1 - 12" I know whom I have believed"