Sir Robert Suckling ( 1520 - 1589)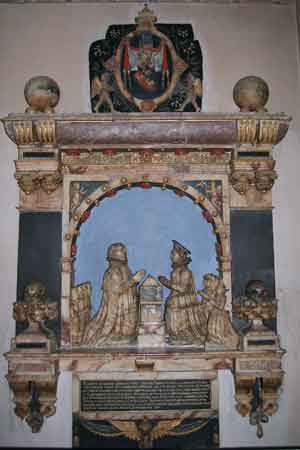 Robert Suckling was a mercer, who attained the rank of Sheriff in 1564, a burgess in Parliament in 1571 & 1586 and was Mayor in 1572 and 1582. This was a family on the way up ! His father Richard is recorded as having been a baker and Alderman,his son Sir John Suckling was an MP who attained the rank of Secretary of State and comptroller of the king's household (click here to learn more about Sir John) whilst his grandson became a celebrated poet.
Robert was married twice firstly to Elizabeth Barwick (died 1569) and secondly to Joan Cardinal. Robert held an estate at Woodton but also lived in Suckling House on St. Andrew's Street ( adjacent to St Andrew's Church where he is buried) . Remarkably this building still survives today and is beloved of many Norwich citizens as being the home of Cinema City


Click here for a readable view of the inscription
The Monument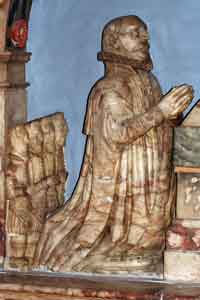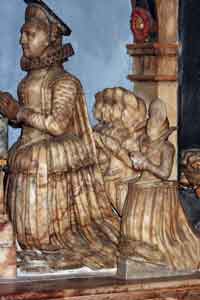 In the early seventeenth Century Sir John erected two alabaster tombs in St Andrew's Church the first dedicated to his Mother and Father (Sir Robert and Lady Elizabeth) the second to himself and his wife Martha.
This monument is very typical of the late renaissance period with Sir Robert and Elizabeth elegantly dressed (and very much alive) facing each other on their knees before a prie dieu with their children depicted as kneeling mourners, segregated by sex behind each of their parents. It is believed that the tomb was made by Dutch or Flemmish immigrants in a Southwark workshop

In 1578 Queen Elizabeth granted Sir Robert his own heraldic crest, which decorates the top of the monument.
What the monument tells us.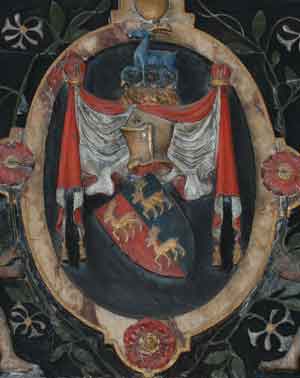 The design of the monument adopts the principle of early Christian Funerary art which had a preoccupation with deliverance from death and sin. This is often achieved by grouping symbols.. Although not as rich in symbolism as his son's memorial there are some notable uses of iconography. :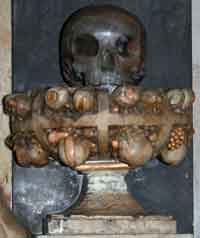 Honeysuckle : locally called "suckling" is used as a rebus and adorns the upper level of the memorial

Fruit : refers to the classical motive of maturitas i.e. decomposition follows ripeness. This allegory is taking one step further by the depiction of a worm wriggling in / out of an apple to the right of the effigies and emphasised by the Skulls sitting on each of the fruit arrangements.clearly stressing death and "decomposition"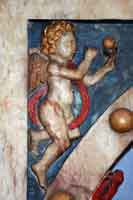 A Putto playing with a Bubble together with Time with his sickle and hour glass - together represent the transitoriness of life.