Robert Page 1707 - 1778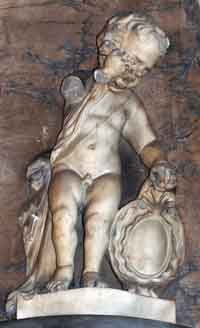 Robert Page was a member of the "Norwich School" of monumental masons. described by many as the best of the Norwich statutaries his works are distinguished by the use he makes of coloured marbles (which are oftern used as veneers), charming cherubs and elegant sarcophagi.
Page learnt his trade as an apprentice to Robert Singleton. In 1737 he bought the stock in trade of Singleton and Bottomley. After gaining his freemanship he acquired premises at the Back of the Inns and not only advertised himself as a freestone mason, wood-carrver and monumental mason but also anounced in the Norwich Gazette that his works was "as cheap and as well as by any other stone cutter on this side of London."
Examples of Robert's work can be found in the Norwich churches including Monuments to : Doctor Thomas Crowe in St Andrew, Thomas Moore in the Cathedral and this his own monument in St John Timberhill.
For more information on Robert Page's work click here
The Monument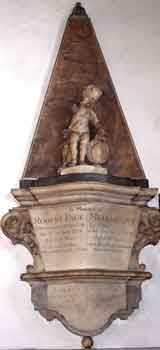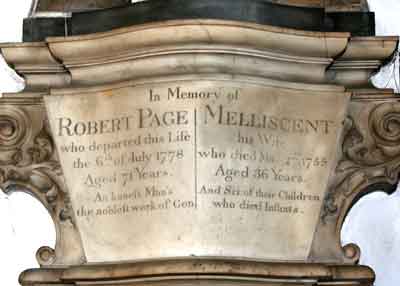 The Monument bears John's name and also those of : his wife Melliscent (1799 - 55) and two other family members Ann (1705 - 63) and Thomas (1710 - 76). A rather touching reference is also made to Robert and Melliscent's six children who all died in infancy

The design of the monument is fairly typical of both the period and Robert's normal design. It comprises a tablet of white marble, topped by a broken obelisk against which stands a weeping cherub holding a cartouche
Click here for a readable view of the inscription
What the monument tells us.
The weeping cherub signifies death whilst the obelisk depicts eternal life