Robert Jannys 1480 - 1530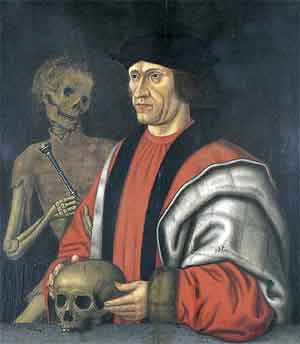 Portrait courtesy of Norwich Museum & Art Gallery
Robert Jannys was born ay Aylsham the son of John and Agnes. He is known to have had at least two brothers Sir Thomas and John. He and his wife Margaret lived in the parish of St George's Colegate in a house called the Two Rammes with their two daughters. He held the office of sheriff in 1509 and mayor in 1517 and 1524.
By trade Robert was a grocer and amassed great wealth, to the extent that he was one of the wealthiest citizens in the Norwich. He not only used such wealth to amass property but was also very generous supporting a number of local institutions both in life and after his death. These included the newly constructed Norwich Guildhall and the church of
St George Colegate
, where he donated a Pulpit on which the grocer's, mercer's and draper's arms were engraved along with his own mark. In his will he bequeathed £350 to the poor including "4d each to the blind lame and sore with bedridden in the city and at every gate about Norwich, and a penny each every Friday for 20 years to 80 poor folk."
The portrait shown was painted by an unknown artist in the early 17th Century and was hung in the Guildhall. The somewhat macarbre picture shows a man who was aware of his own mortality however, the verse written on the portrait illustrates one who's worldly giving prepared him for the afterlife. It reads :
"For all welth worship and properite
Fierce death ys come and restyd me
For Jannys prayse god, II pray you all
Whose actes do remayne a memorial"
The Monument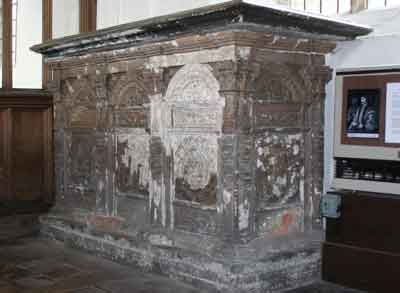 The Jannys tomb is of great historical interest forming one of a small group of teracotta monuments in the County. It displays very clear references to the antique and thus the coming of the Renaissance. It was probably produced by local craftsmen, influenced by Italian sculptors brought to England by Cardinal Wolsey. It is believed that the same sculptors worked on the tomb of Elisha Ferrers at Wymondham and the Bedingfield monuments at Oxburgh. Interestingly Thomas Howard, Third Duke of Norfolk's tomb at Framlingham includes a very similar chest tomb. Pvesner states: " This is Italy applied to English wall monuments and the result is utterly superb and enjoyable" It is the earliest tomb covered in this study being the earliest sculptured monument remaining in Norwich's Medieval Churches.

The tomb itself consists of three arcaded panels separated by pretty baluster pilasters and with narrow panelled frames, dados and friezes. It bears both the Grocer's arms and Janny's own mark.