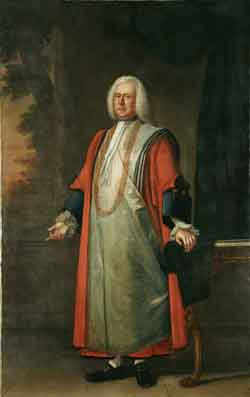 Portrait courtesy of Norwich Museum & Art Gallery
Robert Harvey 1696 - 1773
Robert Harvey of Catton was renowned for his eccentric dress. He gloried in two pseudonyms the first being the somewhat dubious nickname of "Snuffy Bob," earned for his habit of standing in front of of his Colegate house taking snuff from his waistcoat pocket, and the second the somewhat grander "Father of the City.". Not surprisingly it is the latter which is written on his mural tablet in St Clement Church !

He ran the familiy's worsted business in Norwich where he lived at 18 - 20 Colegate with his wife Lydia. He also owned Catton House. He followed the family tradition of taking public office being Mayor in 1738.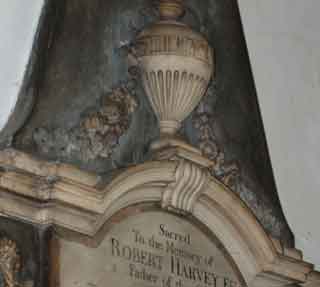 Click this picture for close up of words

The Monument
The monument is to be found behing the door in St Clement and describes a man who was much admired or as the inscription states:
"Though a long and respectable life laudably distinguished himself in the several capacities of a Friend, a Magistrate, a Merchant and a Parent".
What the monument tells us.
The urn in its basic form is symbolic of death,however, by carving garlands around it the sculptor has made it a symbol of immortaility.