Sir Peter Seaman (1662 – 1715)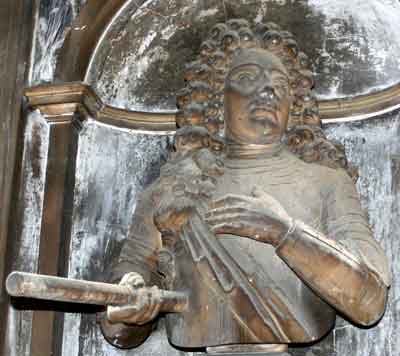 Sir Peter was the son of Thomas Seaman of Heigham. He was a brewer by trade and owned and lived in a large house near Anchor Quay. He also owned property in St Julians and a public house in St Swithins Alley the profits of which he left on his death to be used for "apprenticing poor boys." During his life Peter gained a number of influential offices being Mayor of Norwich , Colonel of the City Corps and High Sheriff of Norfolk.His wife Johanna was the only child and heiress of Henry Framlingham.
In 1710 Peter was supported by Colonel Horace Walpole in his bid to be knighted who wrote to the Prime Minister saying : "The Norwich people are very desirous that Colonel Seaman should be knighted and when I told them that it would be objected that he was a brewer, 'twas answered that worse than he that had not one half of his estate had been knighed… ……. he has actually £2,000 per annum besides his stock in trade, which is considerable. His Father and his wife's Father have been High Sheriffs of the county and he himself within two years of the latter; he is a Justice of the Peace and a hearty honest man." He was obviously persuasive and in 1712 Sir Peter Seaman was received at St James and knighted by the Queen. It was noted in the Knighthood records in London: "Son of Peter Seaman, brewer, Norwich, £2,000 paid"
Sir Peter worshipped at St Gregory . In 1712 churchwarden accounts showed that Sir Peter Seaman had 'new lined his pew on the North side of the chancel part of the nave', where his mayoral irons, inscribed, Sir P. S., had been placed. He was buried in a vault in St Gregory near the North chancel door. The vault was later covered by a pew; it was opened a few years later when Sir Peter's coffin was reported to measure 7 feet 1 inch long. He left £25 to pay for a monument to himself.
The Monument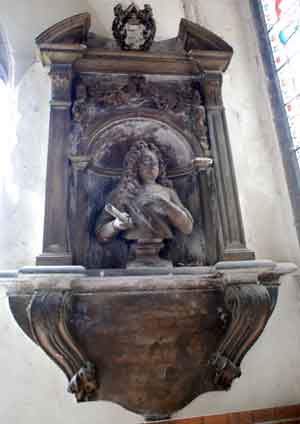 The monument was carved by Thomas Green of Camberwell who has been described as "one of the outstanding statuaries of the first quarter of the eighteenth century"(R Gunnis). Representations of the deceased are rare amongst the eighteenth century monuments and the bust of Sir Peter Seaman is one of the earliest examples. Here he is depicted in gilt armour and wearing a long wig, holding a baton.The ornamental surround comprising a round headed niche flanked by pilasters supporting a broken segmental pediment was typical of the early eighteenth century. The monument is constructed predominantly of white statuary marble with a black carboniferous limestone niche.
A number of features have broken off the monument including : cherubs which used to be found in the niches, a spear and helmet.
Click here for a readable view of the inscription
In 2007 the monument was restored by the Norwich Historic Churches Trust

What the monument tells us.
Flowers represent human life and beauty. The spear and helmet would have been symbolic of his military rank.