Nicholas Sotherton 14?? - 1540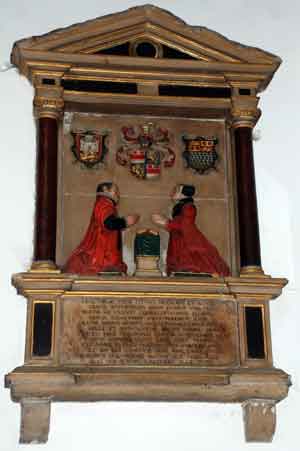 Nicholas Sotherton, was a grocer by trade. He married Agnes, by whom he had six sons and five daughters.

Nicholas was sheriff in 1530 and Mayor in 1539. For twelve years he was a magistrate over which period he amassed a considerable fortune. He owned properties in both the Maddermarket parish (Strangers Hall), Hellesdon and Ludham

The Sothertons moved to the "Strangers Hall" after Thomas Caus. The property is now open to the public who can view Nicholas's handiwork.. In particular in the 1530s he installed a crown-post roof and a stone-mullioned bay window in the Great Hall. He also had the external stone steps and porch built to give direct access to the hall without passing through the cellars beneath. Sotherton's merchant's mark and coat of arms can still be seen on the screen and on the carved roof timbers.
He has also left his merchant's mark carved on the right-hand side of the oak fireplace beam in the "Sotherton Room."

Nicholas died in 1540 and is buried in St John Maddermarket , Agnes survived until 1576. In his will Nicholas directed a priest "honest and well learned to sing for him and to preach the word of God for three years "



The Monument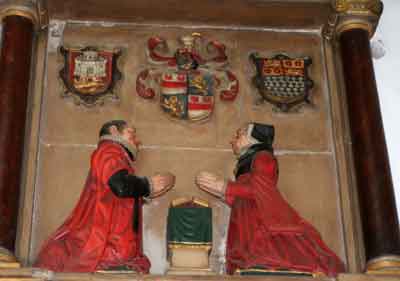 The monument is a relatively plain example of that typical of the period where figures, usually husband and wife kneel and face each other across a desk. In this case he is dressed in his magistrate's robes and she wears a neat cap. It has been noted that both have proportionally large hands. Although the monument is bereft of the sometimes gaudy decoration of monuments produced in this period (see The Layer Monument) it does depict three coats of arms although "it is doubtful whether he had any right to bear arms" (Cozens - Hardy)
Click here for a readable view of the inscription