Matthew Goss 1697-1779

Portrait courtesy of Norwich Museum & Art Gallery
Matthew Goss earned his fortune in the textile trade as a dyer.
His monment pays tribute to a successful tradesman who gave liberally to the poor. Such generosity continued after his death, as reported on the 2nd December 1780 in the Norfolk Chronicle :
"Last week the executors of the late Mr Matthew Goss paid into the hands of the Treasurers of the following charities, viz. Clergymen's Widows, Charity Schools, Doughty's Hospital, and Bethel, a legacy of 100 pounds"
On 3rd May 1757 records show that Matthew presented the City Corporationwith a gift comprising the mayor's chain with medal, which has since been worn by the Chief Magistrate. Although he was never Mayor his portrait was painted by John Theodore Heins wearing the chain (pictured).
The Monument
The monument located in St Peter Hungate is typical of the classical style of the period.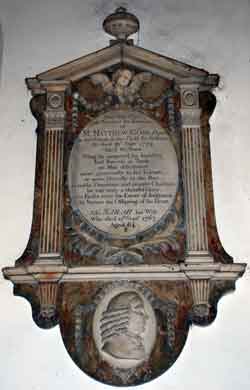 In the eighteenth century the most widespread portraiture on monuments was a relief medallion. In this case the portrait (pictured above) is in profile on an oval of white marble.The monument shares many charicteristics to the monument to Thomas Moore in Norwich Cathedral which is signed by the Norwich statutaries Ivory and De Carle. It is possible that this monument came from the same workshop, although it is inferior in quality and not made by the same craftsman.
The eighteenth century saw widespread use of richly veined and colourful marbles. The most popular was mustard yellow marble from Montarenti near Sienna, which is employed here.
Click here for a readable view of the inscription
What the monument tells us.
The urn at the apex of the monument symbolises death. This is contrast to the the winged angel's head which reminds us of resurrection and the metamorphosis of the soul.