Sir Joseph Paine (1605 - 1673)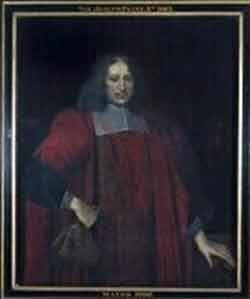 Portrait courtesy of Norwich Museum & Art Gallery
Sir Joseph was Sheriff in 1654 and Mayor in 1660. After the end of the civil war, on 24th of July 1660, he presented the King with £1,000 in gold from the citizens of Norwich. He was knighted at that time and was to have been a Knight of the Royal Oak, he was also made a Colonel of the city regiment.
He was a staunch royalist during the time of the civil war, when Norwich and much of East Anglia was Parliamentarian. He was, however, greatly respected by the people of Norwich, in fact when the Parliamentarian Government called for the arrest of the Mayor of Norwich, he was asked, by the Mayor, to calm the populace who had threatened to riot.
He and his wife, Emma Bencely, the daughter of Richard Bencely of Carlton, bought Strangers Hall in Norwich in 1659. After being knighted by the King he enlarged his house incorporating a separate Elizabethan building by adding two storeys against the hall on the west side. The building is raised over vaults dating back to the 14th and 15th century. The lower of the two Elizabethan chambers had a wooded ceiling with moulded beams. The upper contains a fireplace of carved stone bearing on it spandrels "1659" and the initials of Paine and his wife. The same date and initials are painted on the older fireplace in the parlour.
After his death Matthew Stevenson published a poem in Sir Joseph's honour :
"An elegy upon Sir Joseph Payne, sometime Mayor
and Collonel of the Train'd bands of the city of Norwich,
who dyed in Harvest":
So falls a shock in season, Heaven we see
Has begun Harvest then as well as we
Not without rain too, though in deep laments,
Our eyes out-vie the melting elements….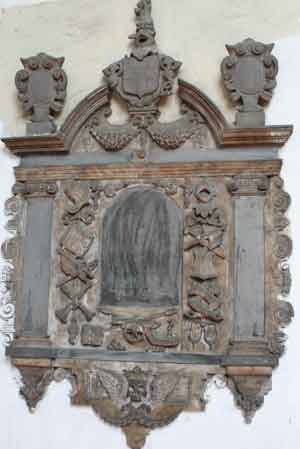 click picture for better view
The Monument
The Monument in St Gregory is constructed of alabaster with black carboniferous limestone. It is unique in design and its use of symbolism.
What the monument tells us.
At the bottom of the monuments is a winged skull wearing a crown. The winged skull represents death however by adding a crown it becomes a symbol of immortality.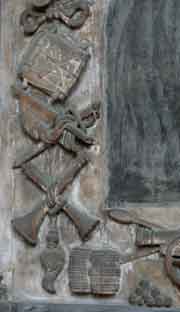 The mural monument is of very unusual design with cannon,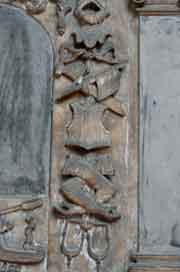 cannon balls, gunpowder, drum, sword flags, sword, helmet and trumpets all standing in relief on the main area of the monument. All are reference to Paine's position as Colonel of the City regiment