Sir John Suckling (1569 - 1627)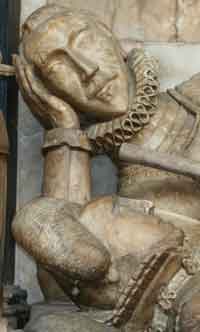 Sir John Suckling was educated at Gray's Inn. He began his political life as a member of Parliament where he served five terms as MP between 1601 and 1626). By 1602 he attained the position of secretary to the lord treasurer rising to the position of "receiver of fines on alienation" in 1604. He held various offices in the court of James I, who knighted him in 1616 and in 1619 was appointed "master of requests". A serious competitor for the chancellorship of the exchequer in 1621 in March 1622 he became secretary of state and in August the same year was appointed comptroller of the royal household. It is reported that the position (which Sir John held until his death) was very lucrative for a man like Suckling who had taken every opportunity to accumulate manors, farms and other assets throughout the country. When Charles I succeded to the throne he made Sir John a privy councillor.

Sir John Suckling shares the tomb with his first wife Lady Martha (1578 - 1613), daughter of a London merchant Thomas Cranfield. Martha's brother Lionel Cranfield was created Earl of Middlesex in 1622 and until his impeachment in 1624 held the office of Lord Treasurer of England. Sir John and Lady Martha had six children. Their second child was quite a character , also called Sir John he is described in the Oxford Dictionary on National Bibliography as " a poet, playwright, and belletrist, but he was a writer mainly by avocation, and by second nature. He was first and last a wit and a courtier to Charles I, being occupied mainly as a gentleman officer, socio-political observer, gamester, amorist, and marital fortune seeker—often impetuously and not always successfully" (Tom Clayton ).
Three years after Martha's death Sir John (senior) married Jane Hawkins (nee Reeve). Jane survived her husband.No reference is made to her on the magnificent monument in St Andrew's church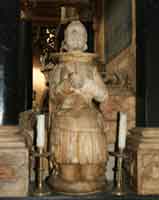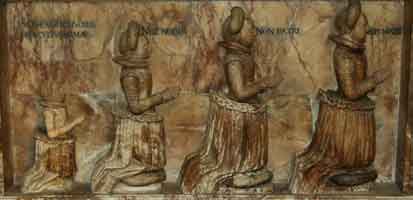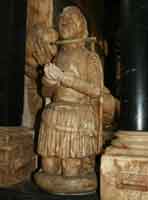 The Monument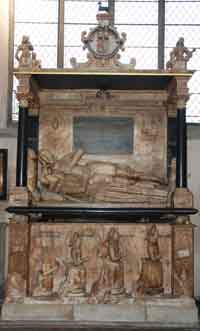 The monument was erected by Sir John (the elder) following the death of Lady Martha in 1613. At this time it was common for men to have their own monuments carved after the death of their first wife but long before their own demise. Sir John was also responsible for erecting the monument to his Father and Mother (click here for details)
Situated in the Lady chapel the monument is an alabaster tomb chest built on three levels. The lower level consists of a sarcophagus. Although the tomb does not contain a body ( the box tomb is merely designed to raise the memorial up to eye level) a carved shrouded figure symbolising the body is just visible within the partially open sarcophagus i.e it is a "transi tomb. At each corner of the chest is a skull which supports the second level of the tomb, which consists of a black table top slab supporting effigies of Lady Martha and Sir John Suckling the Elder. Statues of their sons John and Lionel kneel at their heads & feet respectively. Four black corinthian columns on the table slab support the third level made up of a canopy supporting the Suckling coat of arms surrounded by angelic figures playing stringed instruments. At an allegorical level the first level represents death, the second level depicts the deceased in life and the third level heaven with its cosmic harmony - a theme reiterated by the iconography displayed at each level (see below)

As is common of the time the gender supremacy of the English husband is marked. Sir John is clearly a man of power. He is resplendant in full armour (signifying his knighthood) and grips in his hand a his wand of office. He lies on his elbow clearly awake whilst Martha lies recumbent at a lower level sleeping. The fact that Martha is portrayed as aleep rather than dead points forward to many later seventeenth shroud tombs of women who died young, often in childbirth.

Designed as a memorial sermon in stone, this tomb is engraved with statements in Latin, English, French, Spanish and Italian
What is particularly unusual is the inscribed Latin conversation being held amongst the "sorrows" (the Suckling's children) .Of social significance is that the couple's daughters are depicted as speaking and understanding Latin, which suggests he has educated them as well as his sons.

Click here for a readable view of the inscription
What the monument tells us.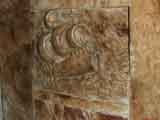 The iconography depicted on the monument (click pictures for bigger view) was unlikely to arouse the violence amongst religious bodies - a necessary consideration of the period and includes:

A fully rigged Sailing ship : This bas relief decorates the sarcophagus and symbolises the human body as a carrier of the soul. It is accompanies by a motto written in Spanish, which translated reads "Without wind I am nothing." - where the wind represents the spirit of God that will provide a safe voyage home for the souls of the deceased.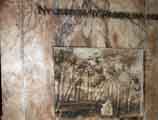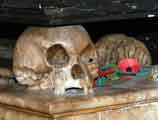 Woodland scene : depicted on the East side of the sarcophagus consists of growing and fallen trees - representing nature's cycle of life and death
Skulls - death
Flaming Lamp - depicted behind the effigies signifies eternal life

Dove flying out of a cage - again depicted behind the effigies, this symbol is accompanied by various mottos including the Italian word "Sciolta" which translates as "free" and the Latin phrase "Post Putredinem resurretico" i.e. "after decay resurrection" - All represent the release of the soul and a promise of regeneration.

Angelic musician figures - sitting on top of the canopy represent the heavens