John Harvey (1666 - 1742)
John Harvey was thought to be the founder of the Norwich dynasty, being originally born in Beachamwell. He was a worsted weaver and admitted as a Freeman of the city in 1695.. In 1710 he was voted the 'Merchant of St Clements'. He started the family tradition of being appointed to great office being Sheriff in 1720, an Alderman in 1722 and Mayor in 1727.

The Monument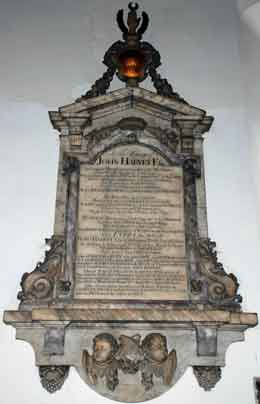 The Monument in St Clement Church celebrates a man who "..by his assiduous application and exact economy acquired an ample forune" It also bears testament to both his wives, his daughter in law Lydia (wife of "Snuffy Bob" ) and various other family members,
Click here for a readable view of the inscription
What the monument tells us.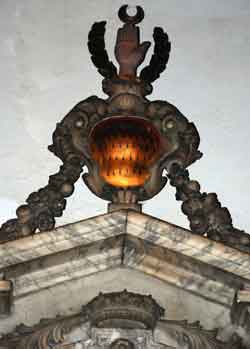 The carving on this monument bears testament to a religious man who believes in life after death. As such the "flaming urn" depicts a belief in immortality reiterated by it being swathed by a garland. Additionally acacia and grapes both symbolise the immortality of the soul with the latter also a reference to sacrifice.
On the same theme the winged angels' heads represent resurrection and the metamorphosis of the soul.
The crown represents the award received by those who stayed faithful until death ( see 1 Corinthians 9:24-27). Whilst the acanthus motif is a reference to the Heavenly Garden .