Sir John Harrison Yallop 1762 - 1835
John Harrison Yallop was born in Norwich and spent most of his life there although he died in Brighton.
He was the son of William Yallop, a glover. It is rumoured that he won a fortune in a the Government Lottery and became a partner in the firm of Dunham and Yallop, goldsmiths, who carried on business at a shop at the corner of Davey Place on the Walk. He lived at 4 Chapel Field North, with his wife Mary Anne, daughter of Peter Watts.

He held a range of public offices being sheriff in 1805 and 1809 and Mayor in 1815 and 1831. It was during the latter time as Mayor, he travelled to London with his brother in law Nat Bolingbroke, to present the City's petition in favour of Parliamentary Reform to King William IV which resulted in his Knighthood.At the time it was quite an event which resulted in an amusing ditty being written which began :
"To the King the Blues wished to present an address
By the Mayor - and their sense of reform to express"
It goes on to describe how the Mayor and "Old Natty" coached to London each hoping for a knighthood but only one received it.

He is buried in St Peter Mancroft Church
The Monument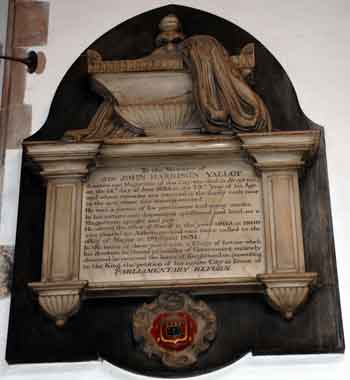 The Monument is in the basic style of a Georgian wall tomb It extols Sir John's virtues and explains how he attained his knighthood. His family coat of arms is displayed under the inscription.
Click here for a readable view of the inscription
What the monument tells us.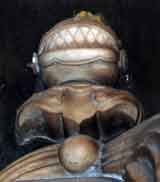 The tomb denotes death whilst the curtain symbolises the drawing of a veil over life. The helmet, which is perched on the top of the tomb, is normally linked to coats of arms and in this design represents a baronet or knight.
It is very clear that Sir John was very proud of his title which was attained less than four years befor his death.