JOHN CROME - 1768- 1821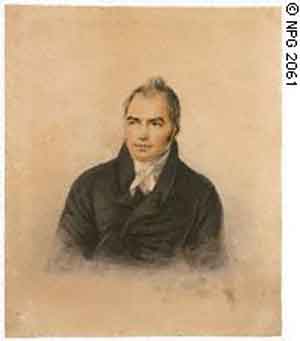 Portrait courtesy of Norwich Museum & Art Gallery
Probably the best known of all the people buried in St George Colegate is John Crome, one of the founder members of the Norwich school of Painters. Crome was a very likeable and charming character, who was described by one lady acquaintance as a 'loveable rascal'.
He was born on 22 December 1768 and baptised on Christmas Day, three days later, in St George Tombland. The son of a journeyman weaver, who also kept an alehouse called 'The Griffen'. (Alehouses in the17&18th century were a 'home' industry and many existed in the city). 'The Griffen' was in the Castle Meadow area of Norwich, according to Hocksetters map of 1789.
In 1781 he began his working life as an errand boy to an eminent city doctor called Edward Rigby. Rigby lived at 32 Giles Street and was to become Mayor of Norwich in 1805. He had an influential effect on Crome's life. He was the first person to recognise his abilities as a painter and he introduced him to some of the significant people of the day. There are several stories relating to Crome during this period. It is said that on occasions he changed the labels on the medicines he was delivering! Another incident resulted in the doctor's medical skeleton being thrown out of a bedroom window, by Crome, after medical students had put it in his bed as a joke.
In August 1783 he left Rigby's employment and began a seven year apprenticeship with Francis Whisler, a coach and sign painter in Bethel Street. His interest in painting developed and he became friendly with Robert Ladbroke, a fellow apprentice. They went sketching together around Norwich, particularly on Mousehold heath, and shared a garret studio. Crome is reputed to have made paintbrushes from cat's hairs and used oyster shells as palettes. He spent what money he had on buying prints of Dutch masters to copy. When Crome's apprenticeship ended, in 1790, he took up commissions for sign paintings himself and began to give drawing lessons to children of the wealthy.
In October 1792 Crome married Phoebe Berney at St Marys, Coslany.Their first child Amelia arrived on October 30th of the same month! They were to have eleven children in all, four of whom were to die in infancy. Amelia died shortly before her second birthday. One of their children, John Berney Crome, was to follow in his father's footsteps and became a well known artist in later life. In 1793 Crome's close friend Robert Ladbroke married Mary Berney, Phoebe's sister.
In the early 1790s Rigby introduced Crome to Thomas Harvey of Catton, who also had a house in Colegate. Harvey was an amateur artist and collector who owned paintings by Thomas Gainsborough, Richard Wilson and Miendert Hobbema. Crome was particularly influenced by Wilson and Hobbema, in particular their ability to give landscape paintings a sense of space and breadth. These qualities were to become a feature of his work and teachings. Further introductions resulted with Crome meeting Sir William Beechey RA, who gave him lessons in London, and John Opie the portrait painter. Opie later painted John Crome's portrait. (See picture) Beechey describing Crome said 'He was an awkward country lad when I first met him, but shrewd in all his remarks on art, although he wanted words to express them'.
In 1798 Crome took up a post with the Quaker manufacturer Joseph Gurney of Earlham Hall. Crome was employed as drawing master to Gurney's three daughters. By this time he had become a Freemason, joined the Philosophical Society and the Dirty Shirt Club! The latter met in the Rifleman's Arms, in Cross Lane, off St George's Street, and were a group of like minded characters, who all smoked 'churchwarden' pipes and enjoyed a drink or two. How his life style was interpreted by the Gurney daughters, we can only imagine, for Betsy Gurney was later to become Elizabeth Fry, the Quaker champion of women's rights and prison reformer.
In 1801 Crome established a school of art in his house at 17 Gildencroft (now demolished) and later took up a post as drawing master at King Edward Grammar School in Norwich. In 1802 he joined the Gurneys on a tour of the Lake District.
In 1803 he, with others, including Robert Ladbroke, founded the Norwich School of Painting. He was to become the Society's President in 1808 and 1821 the year of his death. Most of the artists were landscapists, drawing inspiration from the local surrounding scenery. Their first exhibition took place in 1805 in a court off Little London Street. They became annual events coinciding with the city's Summer Assizes Week, when many people from the surrounding area visited the city and amusements took place. Norwich became the first English city to establish regular art exhibitions outside London.
During his life time John Crome exhibited 307 pictures, 16 of which were exhibited in London. Shortly before he died he became churchwarden of this church. Sadly, when he died he was in debt, owing Gurney's Bank £145. His death certificate recorded that he died on 14th April 1821 of 'an inflammatory malady induced by early labours as a house painter! The local paper reported that 'an immense concourse of people' attended his funeral.
(Extracted from an article by Joanna Bulpett )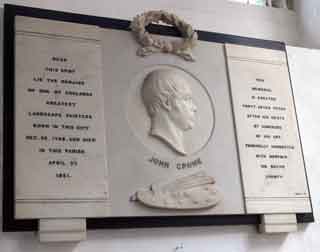 The Monument
The memorial on a slate ledger stonel, here in St George Colegate, was sculptured by John Bell , a Suffolk sculptor. It was erected in 1868

What the monument tells us.
The pallet & brushes are a pictorial representation of Crome's artistic talent. Whilst the laurel represents fame or victory - a medium often applied to literary or artisic figures