Jeremiah Ives 1729 - 1805 (the Younger of St Clements)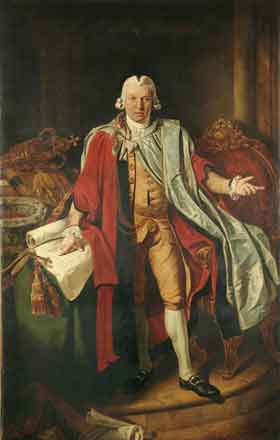 Portrait Courtesy of Norwich Museum & Art Gallery
The Ives family were linked by marriage to the Harvey family.
Four family members attained the rank of Mayor throughout the eighteenth century and just into the nineteenth (1801). However, when examining their history there is some confusion as all the Mayors were named Jeremiah ! There is reference to three on monuments in St Clement Church
This Jeremiah was cousin of Jeremiah the Elder (1722 - 1787) and was believed to have been the son of Jeremiah Ives 1692 - 1741 he was a merchant by trade and attained the rank of sheriff in 1763 before being Mayor in both 1769 and 1795.
He was originally from Bourne in Lincolnshire before moving to Norwich where he lived at 1 Colegate opposite to St Clement Church, a house which was later used as St Clement Rectory.
In 1781 he was chairman at a meeting of a group of deputies representing different manufacturing counties and towns throughout "The Kingdom." . Alderman Ives opposed a move by those trying to obtain an Act of Legislature to export their wool out of the country . Due to his efforts the Act of Legislature was not passed. It is reported that in gratitude the yarnmakers of Norwich presented a portrait of him by Catton (pictured)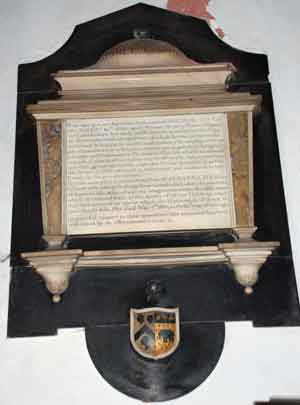 This Jeremiah was a Whig in which capacity he was twice invited to contest the city for Parliament. He was much loved. In fact on the occasion of his second mayoral year, in 1795, there was great rejoicing amongst the parishioners of St Clement. They erected a grand triumphal Arch at the east end of the church, which was illuminated at night and stretched across the street to No 1 Colegate.. In view of his excessive age – he was 70, there was no feast but instead he presided over a cold collation in the Guildhall. On his death he left a large amount of money to charitable causes in his native Bourne.
The Monument
A relatively plain monument in the Greek revival style typical of the early 19th Century, dedicated to Jeremiah and his "beloved wife" Susanna.
Click here for a readable view of the inscription