Jeremiah Ives 1722 - 1787 (The elder of St Saviour's)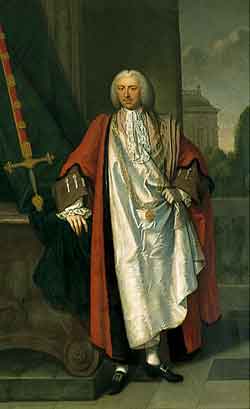 Portrait courtesy of Norwich Museum & Art Gallery

The Ives family were linked by marriage to the Harvey family.
Four family members attained the rank of Mayor throughout the eighteenth century and just into the nineteenth (1801). However, when examining their history there is some confusion as all the Mayors were named Jeremiah ! There is reference to three on monuments in St Clement Church
This Jeremiah was sheriff in 1748 and mayor in 1756. He was subsequently elected alderman of Fyebridge ward in 1752. He is believed to have been the nephew of Jeremiah Ives (mayor in 1733) and cousin of Jeremiah Ives mayor in 1769 and 1795 . The two cousins worked in partnership as merchants. This Jeremiah lived at 24, St Saviours Lane.
To distinguish him from his cousin he was known as Justive Ives or Jeremiah Ives the elder. He had two sons also called Jeremiah, the first died in infancy the second became mayor twice in both 1786 and 1801. His will makes mention of a house at Thorpe and an estate at Hoomington (Honingham), Norfolk. In 1757 his portrait (pictured) by Stoppelaer was presented by the society of Gregorians ( a social club that met weekly on Monday evenings at the White Swan in St Peter's Street) and is hung in Blackfriars' Hall.
The Monument
A classically designed monument dedicated to Jeremiah and both his wives (Sarah & Elizabeth) was erected to the "best of Fathers" and makes reference to wealth of Norwich which is described as a "large and opulent city"
Click here for a readable view of the inscription
What the monument tells us.
The monument is surmounted by a draped tomb signifying death. Whilst acacia represents the immortality of the soul. Acanthus is also carved on the stone which is a reference to the "heavenly garden".