Jacques de Hem 15?? - 1603
Jacques de Hem and his family were immigrants arriving in England to a mixed reception. In Norwich many of the "Strangers" came from the Low Countries . Frictions and disputes between the Strangers and indigenous locals sometimes erupted particularly when incomers were in direct competition with local tradespeople (e.g. bakers)
From this indifferent start relations improved as the Norwich City corporation recognised the advantages of of making full use of the Strangers extensive skills e.g in the textile industry where the Strangers introduced new products and technology.

It is clear that rich merchants such as Jacques played an influential role in City commerce to the extent that in 1596 following a poor harvest the authorities turned to him to help secure provisions from Europe. He again came to the fore in 1602 when he paid £50 to the municipal coffers to purchase a citizenship, later in the year his seven children were officially registered as citizens in the Mayors Court.
Jacques and his family are buried at St Michael at Plea as opposed to St Mary the Less, which is more widely recognised as "The Strangers" church
The Monument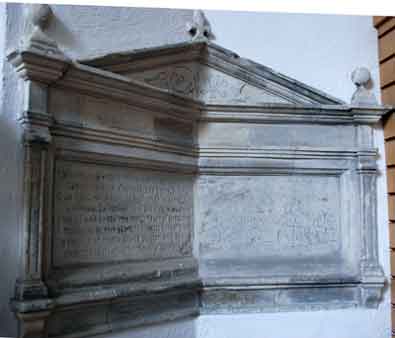 The Monument consists of two inscripted stone blocks rather strangely folded around an obtuse angle on the wall. It makes use of the typical sixteenth / seventeenth century vehicle of depicting Jacques and his wife kneeling opposite each other across a prayer desk with their sons kneeling behind their father and daughters behind their mother.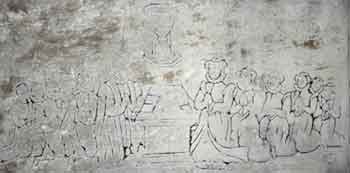 Unfortunately the inscription on the monument is not clear.
What the monument tells us.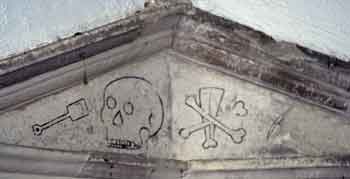 A pediment at the top of the monument is engraved with a skull and bones symbolising death, together with a shovel, which is the tool of the undertaker.
All is not lost, however, as a pick is also included which symbolises immortality