Francis Wyndham (15xx - 1592)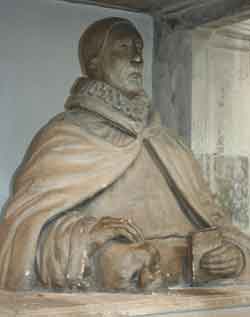 Francis was the second son of Sir Edmund Wyndham of Felbrigg, Norfolk, and his wife, Susan, daughter of Sir Roger Townshend of Raynham. The high standing of his family locally aided Wyndham in establishing his career as a magistrate and lawyer in both Norfolk and London. Having spent time in Cambridge, probably at Corpus Christi College, Wyndham appears in the records of Lincoln's Inn as a master of revels in 1554. He was called to the bar in 1560, became a bencher in 1569, and served as autumn reader in 1572. In 1570 he married Elizabeth, the daughter of Lord Keeper Nicholas Bacon (1510–1579) solidifying a connection centred on his alliance in county politics with his brother-in-law Nathaniel Bacon of Stiffkey. Wyndham was a justice of the peace in Norfolk from 1569, and during the same period served on a number of other commissions, including an arbitration between Yarmouth and the Cinque Ports (1575). He was a member for Norfolk in the parliament that sat from 1572 to 1583, making his mark primarily by serving on committees.

Maintaining a lifelong connection with Norwich, Wyndham was retained as counsel to the city in 1563, became steward in 1570, and held the position of recorder from 1575 until he resigned in 1580. In London, meanwhile, he became a serjeant-at-law in 1577, and in 1579 he was appointed a justice of the common pleas in the face of strong competition. As a judge he presided over the trials for treason of John Somerville in 1583 and William Parry in 1585, and his advice was sought on that of Mary of Scotland. He was also one of the judges appointed to hear cases in chancery during the vacancy in the lord keepership between November 1591 and May 1592.
Wyndham died on 18 June 1592 at his house (the Committee House) in St Peter Mancroft, Norwich, and was buried a month later in the parish church there, where a monument was erected depicting him in his judicial robes. He accumulated extensive properties in Norfolk, including Pentney Priory, with the manors of Ashwood, Pentney, and West Bilney. He had no children, and appointed his countrymen Sir Francis Gawdy and Edward Coke supervisors of his will. Elizabeth Wyndham survived her husband and about 1593 married Robert Mansell of Norwich and died by 1617.

(Extract from the Oxford Dictionary of National Bibliography - Christopher W Brooks)
The Monument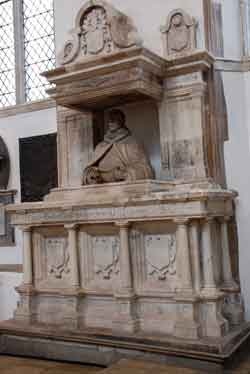 The monument is the largest in St.Peter Mancroft and takes a prominent position in the side chapel.
It is likely that the statue was added later and would originally have been painted.
The design reflects the popularity in the late 16th Century of depicting the deceased as a "half figure" set in a frame.
What the monument tells us.
Sir Francis is still "wearing" his judges cap which he would have worn throughout his life as a judge - even when meeting with the Queen.

There are shields on the front and side but neither inscription nor coats of arms have been added.