Francis Rugg (1535 - 1607)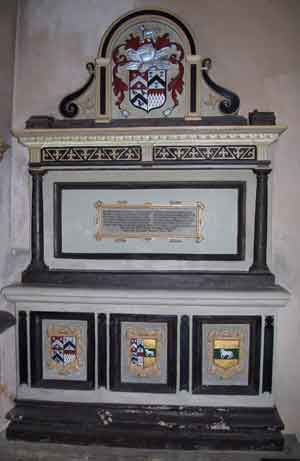 The Rugg(e) family originated from Shropshire, however, they were well established in Norfolk by the time of Francis' birth. His great uncle Dr Willam Rugge, was the last abbot of St Benet's and held the title of Bishop of Norwich from 1535 - 1549, resigning at this time following unacceptable activity.

Francis Rugg's father Robert was a mercer by trade who attained the rank of sheriff in 1537, followed by mayor in both 1545 and 1550. He had the distinction of being an active magistrate during Kett's Rebellion. Robert and his brother were described by Blomefield as being "cruel and oppressive" and were known for pillaging the See by means of improvident leases. Robert and his first wife Elizabeth had five sons (including Francis) and three daughters.
Francis Rugg inherited his father's political ambitions being sheriff in 1572, burgess in Parliament and Mayor in 1587, 1598 and 1602. His wife Ann was daughter of John Aldrich, who was also Mayor in 1558. The couple had no children. They lived in a house built 1470 - 90 on land at the corner of Bridewell Abbey and St Andrew's Street.An inner entrance of the house has been preserved at the Telephone Exchange in St Andrew's Street.

The couple's monument is located in the Suckling Chapel in St Andrew's Church
The Monument
The Monument is in flat relief and bears none of the effigies and imagery that are found in abundance on John Suckling's memorial. The Lower section displays three coats of arms being those relating to the Rugg and Aldrich families, the middle lozenge combines the two. Above the inscription is the Rugg coat of arms surmounted by a helmet denoting an "esquire or gentleman."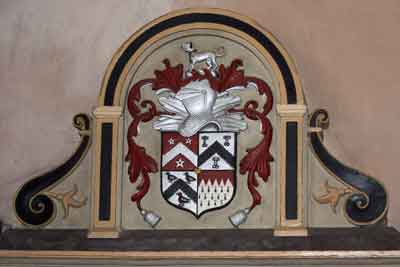 Although the Monument is relatively plain the inscription is quite quite endearing. It reads:
"A senator of senators renowned race
Was Francis Rugg, now entombed in this place
He was thrice mayor in 72 years of life
Ann being by birth an Aldrich late his wife
In love hath reared this memorial
To celebrate his worthy name withall
Click here for a readable view of the inscription
What the monument tells us.
Nothing of note - though see comments above re shields