Lady Margaret Howard 1540-1563/4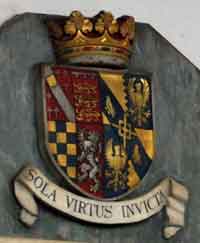 "The Virtuous Lady Margaret" was the daughter and sole heir of Thomas, Lord Audley of Walden and Elizabeth Grey. Lord Audley was a prominent Politician whose roles included Lord Chancellor to Henry VIII. Her first husband Lord Henry Dudley died before she was eighteen.
She subsequently married her cousin, Thomas Howard, 4th Duke of Norfolk, who had been widowed in 1557. Thomas was extremely rich and powerful and has been described as the "Premier Peer" in England between 1558 - 1568. The marriage was initially delayed whilst Norfolk's lawyer negotiated in Rome for a Papal dispensation that would allow him to marry his cousin. Following the death of Queen Mary in 1558 and the accession of the protestant Queen Elizabeth the marriage went ahead without Papal approval. Subsequently in Elizabeth's first parliament in 1559 the marriage received statutory ratification. Margaret brought a rich inheritance to the alliance, including Audley End in Essex.
During her short marriage she bore five children: two sons and three daughters. She died on 10th January 1564 three weeks after giving birth to her second son Lord William Howard, born on 19th December 1563. The monument, however, states she died 7th February 1563 ! This could be because although Margaret was buried with great dignity on the North Side of the Chancel in St John Maddermarket , she had no memorial there until this tablet was erected in 1791 by her descendant Lord John Howard of Walden.

Although the monument here is very plain her effigy lies beside that of the Duke's first wife Mary Fitzalan, on a splendid tomb in St Michael's church, Framlingham Suffolk. A space had been left between the two figures, presumably for the effigy of their husband. He was never placed here having brought disgrace to the family and being beheaded for treason by Elizabeth I because of his attempts to marry Mary Queen of Scots.
'
The Monument
This rather humble tablet was erected by Lord John Howard of Walden in 1791 in a style typical of the time; it was restored by Lord Howard de Walden in 1903.
Under the shield is quoted the Howard family motto " Sola Virtus Invicta" - which translates to "Bravery Alone is Invincible." The reference to "The virtuous Lady Margaret" on the monument could, however, be reference to an alternative translation "Virtue Alone is invincible"
Click here for a readable view of the inscription