Elizabeth Calthorpe (15xx - 1578)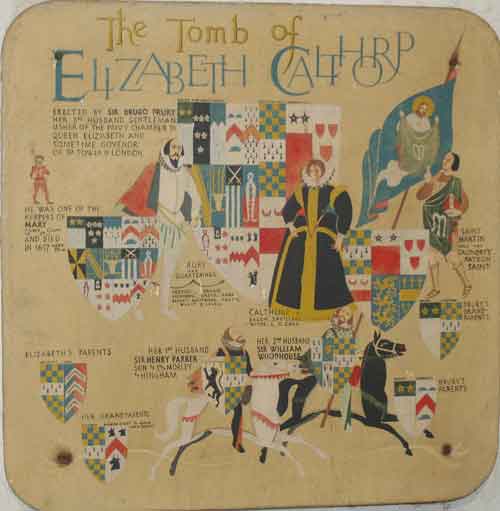 Elizabeth came from one of the socially elite families of Norfolk.Her father was Sir Philip Calthorpe of Cockthorpe her mother was Ann Boleyn's aunt. She was married three times.
Her first husband Sir Henry Parker was son of Henry Parker, the tenth Baron Morley. Through her husband's family Elizabeth gained prestige. The tenth Baron spent his childhood in the household of Lady Margaret Beaufort (Henry VIIs mother) and held various positions in the court of Henry VIII.
Unfortunately, her husband predeceased his father and the title passed to her stepson. However, her son Philip by this marriage was knighted in 1580. He was one of the leading protestant gentleman of Elizabethan Suffolk where served as a deputy lieutenant and muster commissioner.He was elected sheriff of Suffolk in 1578.

Elizabeth married circa 1552 her second husband Sir William Woodhouse (1517 - 1564). William would have been termed today a "self made " man. A younger son he is known to have been a member of St George's Company of Norwich and is has been presumed that at one time he was apprenticed to a Norwich merchant. He made a career at sea rising to the rank on naval commander.From 1542 he commanded various of the King's ships in battle before been knighted in 1545. In 1552 he attained the rank of Vice Admiral of the navy a position he kept until his death. Woodhouse sat in Parliament a number of times at different times representing Norwich. Great Yarmouth and Norfolk. Elizabeth was William's second wife one who was suitable for his much improved wealth and status. The couple had three children; Thomas, William and Elizabeth.
About 1565 Elizabeth married for the third time. Dru Drury (1531/2 - 1617) was a courtier he had something of a chequered career , which included a short spell of imprisonment for participating in a brawl over Elizabeth I's marital status. In 1559 he was made a gentleman usher of the privy chamber a position he retained until his death. Elizabeth's dowry consisted of the lordship of the manor of Riddlesworth, Norfolk. After their marriage the Drury's moved there and built Riddlesworth Hall. They had no children. Elizabeth died in 1578 and was buried in St Martin at Palace Church. The following year Dru was knighted. In later life he was active in Parliament though is probably best remembered for the role he held in November 1579 when he supervised the imprisonment of Mary Queen of Scots.
The Monument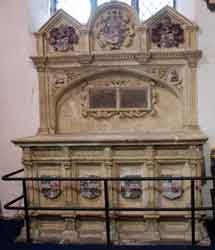 The monument is set at the east end of the north chapel. It comprises a tomb chest with a plain top slab, with four bays to the front and one to each end. Each bay incorporates a shield at its centre and has a formal classical architectural frame. It is constructed entirely of a fine grained limestone, pobably from Caen. The upper section, built against the wall comprises a depressed arch over a shallow recess - within which is a double inscription panel. To the sides of the recess are fluted pilasters topped by an architrave and dentilled cornice. At the top are three bays each defined by pilasters with open pediments - the outer pediment been plain, the centre one segmental and crowned by a finial. Within each bay is a heraldic shield. The spandrels to the arch incorporate roundels with floral motifs, a device used by the Norwich Masons worshop leading to some speculation that the monument may have been produced by these craftsmen.

Click here for a readable view of the inscription
What the monument tells us.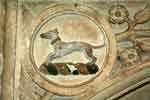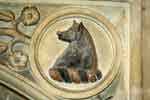 With the exception of the shields the carvings on the Monument appear to be decorative rather than symbolic.The shields depict the Calthorpe coat of arms together with associated families