Edmund Hooke 1707-1784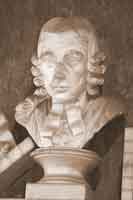 Edmund Hooke was a Barrister and a member of the Middle Temple. He played a prominent role within Norwich where he was Deputy Lieutenant for "the City and County of Norwich." In 1744 he also held the position of Sheriff.
It is, however, his role in the Norwich food riots of 1766 for which he is particularly rememberd for his "defence of the unfortunate and deluded prisoners"
He was married to Elizabeth (1714 - 1793). They had three daughters and a son, also called Edmund who like his father was a Barrister at Law in the Middle Temple.
The Monument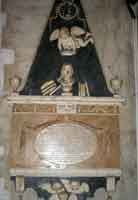 The monument in St Miles (Michael) Coslany adopts a baroque style typical of both the seventeenth and eighteenth centuries including decoration in the form of cherubs, urns and garlands of flowers and the ample use of both black and coloured marble.

Portrait busts and busts of notable figures had become the standard decoration of gentleman's libraries and their gardens in the early eighteenth century. This medium has been used to good effect here (see below for further interpretation)

Although not proved, Jonathan Finch suggests the possibility that the monument could be attributed to John Ivory . If so it would be "the most ambitious example" of this mason's work.


Click here for a readable view of the inscription
What the monument tells us.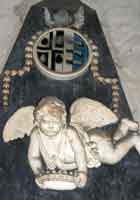 The imposing monument clearly pays testament to Edmund Hooke's profession. It includes a bust depicting him in his barrister's wig surrounded by books and scrolls. Books were used at this time to denote a learned person.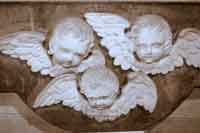 Alternatively showing Edmund here amongst books could be depicting him as a "notable figure" worthy of being displayed in a gentleman's library. The sculptor has made full used of iconography. The cherub is about to place "the crown of eternal life" on Edmund's head.The urns signify death however these are offset by the garlands adorning the monument which represent remembrance.The obelisk is generally used as a medium to represent eternal life owing to a man who was pious which has again been emphasised by the depiction of the cherubs who adorn the base representing resurrection and the matamorphosis of the soul.