Augustine Briggs (1617 - 1684) - "An honest old Cavalier"

Portrait courtesy of Norwich Museum & Art Gallery
Augustine Briggs was the son of Richard Briggs, of Bessingham, Norfolk and Elizabeth Hawys, of Walsham -le-Willows, Suffolk. He was educated in Norwich. By profession he was a grocer he also served as a major in the militia as well as holding a range of civil offices

In 1642 he married Elizabeth Aldred of Colney. The couple had seven sons and one daughter. His sons have somewhat differing reputations : Augustine Briggs (the younger) followed his father's footsteps and was Mayor in 1695 unfortunately Dean Prideaux wrote of him "his disease is a perpetual thirst after brandy." His second son William was a physican and occulist and served for five years as "physician- in- ordinary" to William III.
Augustine was a Royalist during the Civil War when much of Norwich was Parliamentarian. During this time he was deprived of his Aldermanship, but was reinstated in 1660, when Charles II claimed the throne. In the same year he became Sheriff.
In 1670 he was elected Mayor then in 1662 he was appointed Treasurer for Norfolk. He was burgess in Parliament in 1677, 1678, 1679 and 1681.
Augustine was much admired. He was regarded as a staunch constitutionalist and churchman who could be relied upon in all of the imprtant trusts that were given to him. He was also held in affection by the people of Norwich as he was seen as a kind hospitable man. indeed in 1681-2 it was written of him : " of the moderate party, the most considerable is Alderman Briggs, an honest Old Cavalier and a very understanding man"

His charitablity continued after his death. In his will he bequeathed an estate in Swardeston for the joint benefit of the Boys' and Girls' Hospital. This estate was administered until 1910. He also donated £50 towards buying a house for the minister of
St Peter Mancroft Church (where he is buried) and a further £50 towards a Trust fund for "poor minister's widows"
His name lives on in Norwich. In 1783 the street where he lived was renamed Briggs Lane . By 1830 it was called Brigg Street ,the "S" was dropped by mistake!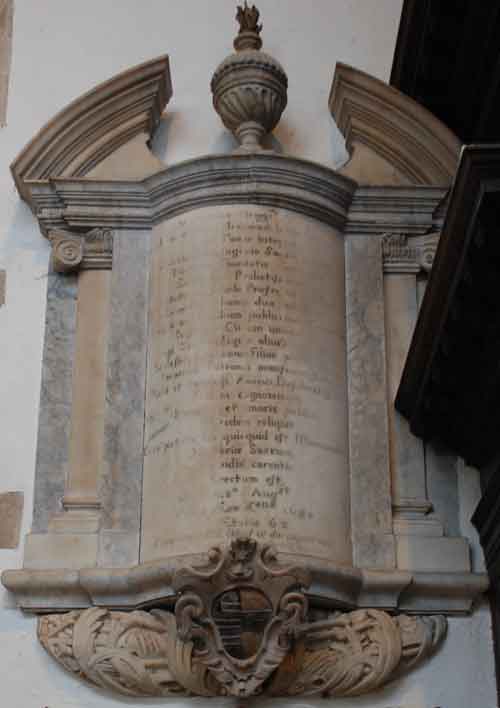 The Monument
The monument appears to be quite plain. It is topped by a broken pediment surrounding a "flaming urn".
At the base is Augustine's coat of arms, which at first glance appear to be surrounded by "abstract" carvings. However a closer look at the carvings reveals a macarbre collection of bones and skulls. Particularly effective are the skeletal hands.
Click here for a (slighly better if not quite readable) view of the inscription.
What the monument tells us.
The bones and skull all represent death. Whilst the flaming urn symbolises the new life which will overcome death.