Archibald Morrison (1765 - 1848)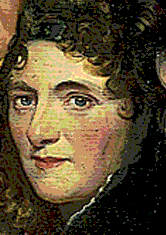 Archibald Morrison, was an 'American Loyalist', as such although having American nationality, during the American War of Independence he fought with 20,000 of his compatriots for George III. It is believed that he was an Ensign in Colonel Beverley Robinsons Loyal American Regiment At the close of the War of Independence, in 1782, he came to England and originally obtained a commission in the Middlesex militia before moving onto the Norfolk militia.He was linked to the Harvey family through his second wife Sarah, 1768 - 1827 (pictured)youngest daughter of Robert Harvey .
Archibald Morrison died on the 1st May 1848 at Eaton aged 88 years. His remains are interred in Norwich Cathedral.
Portrait courtesy of Norwich Museum & Art Gallery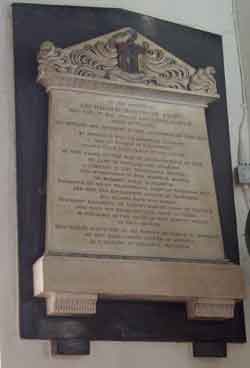 click picture for readable inscription
The Monument
The monument, in St Clement Church was erected by his nephew, Archibald M Morrison of New York, United States, 'as a tribute of grateful affection.'
The "Greek Revival" style is typical of the early 19th Century design
What the monument tells us
Although relatively plain, at the top of the monument sits a coiled serpent symbolising immortality.