Robert Singleton 1706 - 1740
Robert Singleton was the first sculptor reputed to come from the "Norwich School". Originally from Bury St Edmunds he had a successful practice in Norwich adjacent to the Cathedral. Some of his work was completed in partnership with George Bottomley.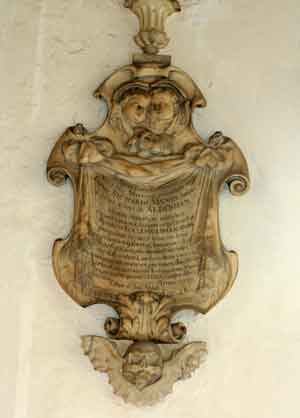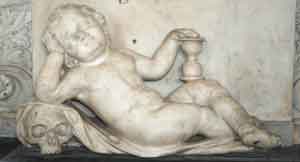 His work includes : the cartouche to Richard Manby (1671 - 1720) in St Martin at Palace which is redolent with imagery including a winged death head , putti and drapery hung from scroll;. the monument to Mary Bateman (1706 - 21) in St Gregory which is more of an architectural piece; and my favourite which is a delightful memorial to Thomas Pindar in St George Colegate which is a standing wall monument in white marble, depicting a cherub reclining cross legged, his right elbow resting upon a skull whilst his left hand holds an hour glass(pictured above).
Singleton sold the stock in trade owned jointly with Bottomley in 1737 to Robert Page, who had been his apprentice.Although he died very young he passed his skills on to a pupil who has been described as "the best of the Norwich statuaries" - whose carvings of cherub's are as delightful as his master